GPEX Mineral Property Portfolio

THE GREATER GRANITE CREEK GOLD GROUP

The Granite Creek Gold Camp lies within the greater Tulameen Mining District, and represents one of the older gold producing areas in the south-western interior of British Columbia. Placer gold was first discovered on the Similkameen and Tulameen Rivers in 1858, where after in 1895 placer gold was discovered on Granite Creek, creating a gold rush which lasted until 1910. Thereafter, miners gained an interest to trace the placer deposits, which generated a new wave of mining activity. Records show that hardrock prospecting commenced in the region during the late 1880's, and has sporadically carried forward with the rise and fall of precious metal prices. Since the mid 1980's, several operators have conducted trenching, drilling and Geochem programs on or around the claim area, all with good results. Yet, this property remains to be developed into a producing mine.


Tenures:





~ MISSING LINK & OTHERS ~
(AKA GD)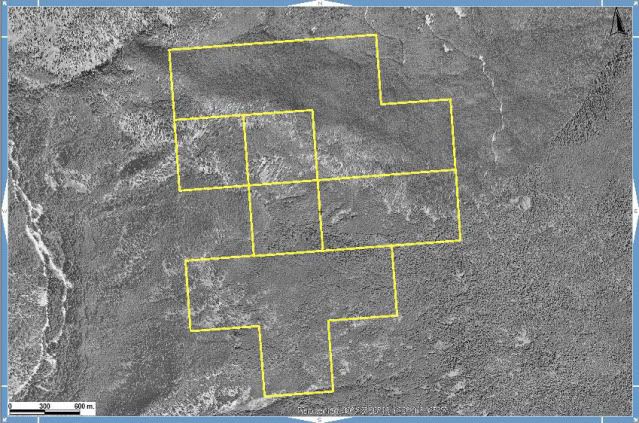 Scale 1:15,000
Central coordinate: 120° 41' 42" W Longitude, 49° 26' 38" N Latitude
- Features -

One
grab sample from quartz dump-talus assayed at
67.10 g/t gold, 104 g/t silver and 1530 ppm copper.
A second grab sample assayed at 95.10 g/t gold, 37.7 g/t silver and 1800 ppm copper.
A third sample assayed at 28.65 g/t gold, 17.1 g/t silver and 470 ppm copper.
The "Granite Creek Gold Suite," a compilation of six extremely-high-potential gold / copper-gold properties, collectively comprise 315.04 hectares of prime hardrock ground within the famed Granite Creek Mining Camp. These adjoining properties are situate 12 kilometers west-southwest of Princeton, B.C., in the Similkameen Mining Division. Lying on the east side of Granite Creek, access is gained via a 4-wheel-drive forestry road, leading northward from BC Hwy #3, approximately 5 km southwest of Princeton. Elevations range from 1220 metres at the western portion of the claim block, to 1780 metres on the east.

With the opening of GPEX's mineral property portfolio, these and several other dynamic prospects of high potential, are now made available to parties bearing serious hardrock interest. Whether of larger mining status, a junior firm desiring to expand upon its operations or holdings, the entrepreneurial mining speculator, the individual seeking investment opportunities, the small operator desiring a Mom & Pop operation, or, the junior prospector seeking a quality property to engage in hardrock explorations, quite possibly the acquisition of one or more of GPEX's properties will satisfy the search.

These properties were staked due to their high incidence of precious metals, and are conducive to prospecting for approximately eight months out of the year.

.

The following Ministry Minfile offers a capsule summary

MINFILE No 092HSE134
SUMMARY
GD, AU, FITZ

Similkameen

092H047

092H07E

10 (NAD 83)

5479779

Au, Ag, Cu, Pb, Zinc, Antimony

M05 : Alaskan-type Pt+/-Os+/-Rh+/-Ir
L04 : Porphyry Cu +/- Mo +/- Au
L01 : Subvolcanic Cu-Ag-Au (As-Sb)
Capsule Geology The GD showing is 1.5 kilometres northeast of Granite Creek and 13.5 kilometres west-southwest of Princeton.

A small stock of fine to medium-grained gabbro intrudes a sequence of agglomerates with interbedded limestone and argillite of the Upper Triassic Nicola Group. This intrusive is possibly related to the Early Jurassic Tulameen Ultramafic Complex.

The stock is cut by a shear zone striking west-northwest. The zone is up to 6 metres wide and contains a quartz vein 0.05 to 1.2 metres wide of similar orientation. The vein is mineralized with pyrite and minor chalcopyrite, tetrahedrite and malachite. Native gold is reported to be associated with the sulphides. A channel sample from the shear zone taken in an adit across a width of 1.0 metre assayed 4.01 grams per tonne gold, 6.5 grams per tonne silver and 0.08 per cent copper (Assessment Report 15317, page 6).

A sample from a quartz vein outcropping about 480 metres east-northeast of the adit assayed 2.15 grams per tonne gold and 1.9 grams per tonne silver (Assessment Report 15317, page 9).
please direct all inquiries to:
Larry Amey Pres. & CEO
(604) 869-5511 - [email protected]